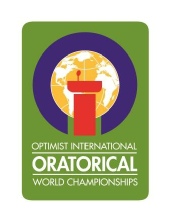 2021-2022 Topic

"Staying Optimistic in Challenging Times"

Oratorical Club Planning Guide

All questions should be directed to Chairperson Judy Karonika - jrkaro1@aol.com

The Optimist International Oratorical Contest is Growing.
Optimist International and St. Louis University have partnered to host an exciting new
enhancement to the Optimist Oratorical Contest and scholarships.
Optimist Clubs will send their Oratorical winner to the District contest as usual.




View the YouTube clip about the competition.